WOW! Where has time gone since my last post. We had a great trip to DC with the kids. It was very historical and memorable. According to Greg, we did see our share of "marble and crown molding". However, you cannot see DC and Mount Vernon in four days. The Cherry Blossom festival was going on which was an added treat to the trip.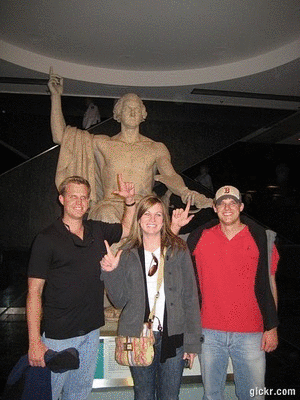 Make your own animation
WE are ready to finish the kitchen; the weather is calling us to be outside. Before I left town after much deliberation I did make a choice and design on my backsplashes. The night before I left I had it all laid out for Rick. He did this while I was in DC; and did a fabulous job. Then came the flooring. Between the backsplash and the flooring, he labeled us the "inferior decorators" because it takes me (us) so long to make any decision. Each choice takes several trips to all the stores in Sherman and several in Dallas to see all the samples/choices and then several trips to get the supplies.
Up to this point the flooring has been the hardest on the bodies. The old tile was a pain to chip up and get out. The floor was unlevel with bits of leftover mortor that had to be chipped up. Rick finished laying the tile Sunday night after I went back to Home Depot to get one more tile. We were one tile short. The amazing fact is that I found one tile broken in the trash pile when I was cleaning up. So we actually had purchased the correct number of tiles.
The tile selection was a saga in itself. We chose travertine, which I knew was irregular in appearance, so I took extra ones home with me. I originally took 120 - 30 cases of 18 X 18 squares home with me. I laid them all over the yard choosing the ones that I liked. I kept 40 and took 80 back. The next trip, they let me choose the ones I liked in the store so that I did not have to take them home and back again. Rick asked the lady if this was a normal process. She was very nice and polite, but said NO. Most people who chose travertine chooses it for the natural look. I like the natural look - I just wanted to choose the naturalism of it.
We are now to the grouting stage. This is smushing grout into a 1/16 inch space. If anyone reading this, has a suggestion on an easy way to do this let me know. We have a busy week with ballgames, town meetings, and our "redneck" weekend. So the kitchen will be put on hold for a week.